​"In 2011 after my husband died, I found myself in a terrible financial situation in which our home of 35 years was up-side-down by more than $150,000 with no hope of selling. Several local Realtors convinced me that foreclosure was my only option; I was introduced to Anita and William Dorich through his book, Defeat Foreclosure. For two months they negotiated with Chase Mortgage and in the end it was through Bill's expertise I was able to obtain a loan modification that included a principle and interest reduction that ensured I could remain in my home and live within my retirement income. There is not enough space here, or enough words to describe how grateful I am to have met this impressive real estate couple."

-P. Phillips, Pittsburgh, PA

"I was the trustee for an estate of an individual who was not a relative. I was therefore very conscious that I needed to be selective in choosing the Realtors who would handle the sale of the remaining real property. Anita and Bill Dorich were by far the appropriate choice. They made my position extremely effortless and handled every aspect from the listing date to the close of Escrow. Their follow-through was meticulous. I highly recommend them for any of your real estate needs."

-B. Whitmore—Trustee, Westwood

"Recently I had a death in the family and inherited a condo in Los Angeles, where I had no connection. Anita and Bill Dorich were highly recommended to me, and was I ever fortunate. The sale turned out to be much more complicated than I had originally imagined. Two failed probate court hearings delayed the sale and my leaving the country did not help having to deal with an Escrow long-distance. They found a buyer and even arranged the buyer's financing. They were always available to me 24/7 and everyone was very satisfied. They stayed with this complicated sale from beginning to end. I will always be grateful to them for their never-ending effort."

-Margaret Sullivan—Trustee, San Francisco

"I lived on the same street as Anita and Bill Dorich for 30 years. When it came time to move to Northern California to be near my family I knew that listing my home with them was a wise decision. They are well respected in the real estate community and had sold many properties on the Westside of Los Angeles. Never did I expect that Bill would negotiate a full price offer the same day they put my home on the market. However, I was pleased that there would be no open houses and a parade of hundreds of people going through my home that was common in Westwood. Their commitment did not end with the sale, as Anita helped me find a home near my daughter and made the move a smooth one. I am appreciative of their professional integrity, of which I had no doubt, having known them these many years."

-Miriam Cohen, Danville, CA​

"I have known Bill and Anita Dorich for many years. Our family has been involved in numerous real estate transactions with Bill including a vacation home we just purchased in another state—that did not faze the Dorich team. They went into their efficiency mode; found us a qualified agent in Arizona making the transaction smooth and pleasant."

-Claudia Smedley, Riverside, CA​

"Bill Dorich was a Real Estate partner with my grandmother for several years. I inherited her luxury condominium on the Wilshire Corridor in Westwood but decided not to sell the unit. As I live outside of California, Bill and Anita helped coordinate remodeling and quickly found a tenant at my full asking price. Their ability to make an owner comfortable during a long-distance transaction is a great asset."

-M. Lewis, Tucson, AZ​

"I have bought and sold a number of properties on the Westside of Los Angeles. Since I speak primarily Spanish Anita Dorich was a communication blessing and made me comfortable that I had a clear understanding of the transaction every step of the way. Anita and Bill sold my unit at The Dorchester and even helped me move to another property I own. This Real Estate couple has a great deal of ethics, integrity and compassion and I highly recommend them for your property needs."

-Nina Hunter, Westwood, CA​

"As the Trustee of an estate in Pasadena I inherited two houses side-by-side that that were considered teardowns. I gave the listing to Anita Dorich who convinced me that combining the properties would generate a higher sales value, especially to local builders looking for property on which to build condos. Anita listed the properties and within 3 days gathered 5 builders and we had a bidding war. She sold the properties for $65,000 over asking price and multiple units have been built on the combined sites. My decision to give the property to Anita Dorich proved successful for the estate."

-C. May, Trustee, Pasadena, CA

​"I would not hesitate to use Dorich Realtors for my next real estate purchase. I know that Mr. Dorich is be extremely knowledgeable of the realt estate marketplace of Beverly Hills and I have found that he is honest and forthright and a pleasure to do business with. I would rate him number one in all aspects of his expertise, be it real estate or any other endeavors that he has pursued."
-Jo Ann Miller

"I have known Anita and William DORICH for just over 18 months, yet I feel as though I have known them for years. They are warm, intelligent, inventive and honest with a depth of integrity that is rare in any business today, let alone in Real Estate. If you're in search of a home suitable to your income bracket and own family style of living... or if you're single and need something serviceable and suitable to single life, I fully recommend DORICH REALTORS for I know no other I would trust more."

-Colee Viedelle-Smith, Author

"Bill and Anita are true professionals who approach all endeavors with the highest standards. Most importantly they are wonderful people who will always do the right thing - their integrity is beyond question. I have had occasion to do business with them and would not hesitate to do so again. Truly, they are two outstanding people!"
​
-Val Rajic, President, Universal Fidelity

"I have known Bill Dorich for over 20 years. He is a dedicated and talented gentleman and excels in whatever he pursues. I recommend Bill and Anita for your real estate needs."

-Michael G. Pravica, Ph.D., UNLV, Professor of Physics

"WILLIAM DORICH IS A CONSUMMATE PROFESSIONAL AND A GENTLEMAN! He combines formal education at UCLA with vast life experience. He is my Realtor of Choice and I highly recommend him!"

-George Kosich, Professor of Music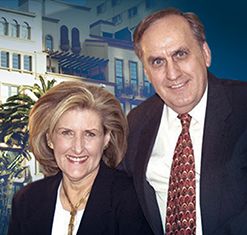 Anita and William
Dorich
Call or Text Us:
310-923-7757
Bill CA BRE #00804536
​
​Anita CA BRE #01413722
Contact Us! We'd Love To Hear From You
William "Bill" Dorich
Author of the Best Selling Books Defeat Foreclosure & How To Navigate Your Inherited Home Sale