About Anita and William Dorich
Anita and Bill Dorich take a special interest in their clients. Bill has enjoyed his 25th year in Los Angeles Real Estate and Anita enters her 11th year as an active partner. They bring a personal touch to assisting families and individuals in reaching their desired goals and life dreams through their most important purchase—the home. They remain committed to their mission statement of "Performance through Experience and Attentiveness." In 2009, Bill wrote Defeat Foreclosure with Merle Horwitz—the book in its best selling 3rd edition emphasizes solutions for homeowners facing foreclosure, short sale and loan modifications.

Background:
Anita and Bill Dorich have lived and worked in Westwood for more than 30 years. His career includes ten years as regional sales manager for two major printing companies—one of Bill's major clients was Architectural Digest. This was followed by ten successful years in local real estate sales with The Jon Douglas company where he specialized in Beverly Hills and Westside property. He joined Keller-Williams Realty in Beverly Hills in 2004 along with his wife Anita. They concentrate on residential property throughout the Los Angeles area.

Anita has a background in the community as a former counselor for the motion picture industry, utilizing her BSW from San Francisco State University and her graduate studies at USC. She is fluent in three languages. This has given her vast experience in understanding and solving the needs of a diverse clientele in, most predominantly, a caring manner. Their long-standing residence has made them extremely knowledgeable about varying local regulations, resources, improvements and activities regarding Los Angeles real estate.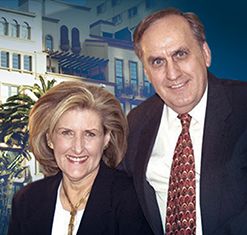 Anita and William
Dorich
Call or Text Us:
310-923-7757
Bill CA BRE #00804536
​
​Anita CA BRE #01413722
Contact Us! We'd Love To Hear From You
William "Bill" Dorich
Author of the Best Selling Books Defeat Foreclosure & How To Navigate Your Inherited Home Sale